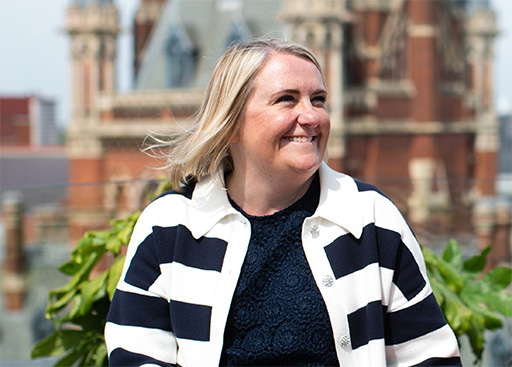 Fresh eyes and new people can rejuvenate the way we operate and make the business fit for purpose for today and going forward.
Like many businesses within hospitality, we've spent a lot of time analysing how our customer base has progressed in recent years.
Our client base is changing and evolving as people are promoted and developed in their own businesses. Naturally, they're looking to talk peer to peer with people they connect with, and as a business we must keep advancing to stay relevant, current. As a result, the evolution of our leadership team here at Act-Clean is and always has been hugely important.
After many years in operations myself, I'm proud that three recent appointments to our leadership team all share an enormous amount of hands-on operational experience themselves, which makes us better equipped to deliver a service that our leading hospitality clients are expecting.
Mark Golding, who originally trained as a chef, is our new Head of Operations and joined us at the end February. We've known Mark for a long time – previously he was our client during his 13-year period at Claridge's when he was Back of House Manager. Prior to that, he worked at Corbin & King, also a valued client of ours, and before that Conran Restaurants, which of course became D&D London.
Asa Hutchinson rejoined Act-Clean on the same day as Mark, having previously worked with us managing our housekeeping business pre-Covid. I'm delighted that she's come back as Head of Business Support, where she underpins the operational service delivery, client communications and the environmental management side of things, alongside leading on the ESG colleague forum and implementing the social part of ESG into the business as a living and breathing thing.
The third new member to the leadership team is KK Prabakaran, who has joined us as Head of Client Services at The Peninsula London. KK, of course, was well known as Hotel Operations Manager at Dukes, but we had known him since his time at the RAC Club when he oversaw the housekeeping there and where he was also a client, but it was really through organisations such as Springboard and the UK Housekeepers' Association, alongside other networking events, where we got to know him better.
We believe that these former colleagues and clients, with the right expertise, make a really great addition to our team. It's an important transition for them, moving from client side to provider side, but they've all made this leap of faith because they believe in the company, they believe in us. They want to be part of this team and our future.
And just as I joined from the client side of hospitality 13 years ago, having known Act-Clean for many years as a client prior to that, we're continuing on that path with people who we believe in and people who believe in us – so there is trust in the partnership, and while they are making a big decision in their career, the business is making a big investment in them and in the future of the leadership team.
In the long term, we're creating an opportunity for people as we've always done. Other members of the management team started off as frontline employees and as we're looking to grow and develop the business and the leadership team, we're naturally looking to people with the right experience and knowledge of the sector – and, importantly, people that we know and believe in – to help us do that.
We are forward-looking and evolving. We understand that relationships and trust are key – not just with us internally when we bring new people into the business, but with us and our clients. We have many long-standing clients and so when we introduce new team members to that relationship, we need to know that, as a collective, we are committed to retaining and developing the client relationship.
It's important that we find people that share the values that we believe in, and our clients expect. We don't want people to be carbon copies – far from it – we want people to be their own authentic self, but it needs to be in line with what we do. We're not going to change what we do or the honest way in which we do it – these people have the same belief system as we have, but different styles and complementary skills. Importantly, given their background experience, they understand the client goals completely.
For the broader team, the development of the leadership team creates a wider layer of management to trust, to talk to, to create mentoring and development opportunities, and a greater base to ensure that all the values we have are being lived, breathed, and delivered.
We've been measured in our approach. We've looked at what's the right structure for the next three-to-five years of business growth in terms of management and we have invested in that in advance and brought people on board in line with the client base and its requirements.
Bearing in mind what our business, and the industry as a whole, has been dealing with in recent years, there was prioritisation on survival to some extent, and we focused on our people and delivering to our clients' needs. While we had systems and processes in place that were good enough, they weren't a priority to review.
But with the appointment of our new team members, we've got time to look at those things properly, to automate, to develop our time and attendance functionality, and to take our health and safety training online, as well as our supervisor training programme – all these things will benefit both our team, across all levels, and clearly our clients too.
Fresh eyes and new people can rejuvenate the way we operate and make the business fit for purpose for today and going forward. In many ways, we're excited to be entering a bright, new future.
Gillian Thomson was talking to Amanda Afiya.
Get to know our team more – follow us at https://www.instagram.com/act_clean/