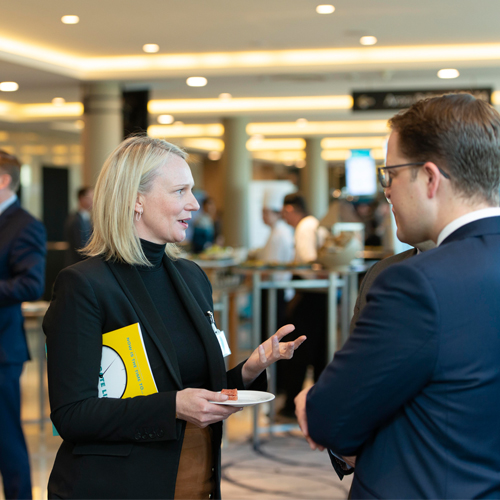 Networking is the hospitality industry's superpower, says Bronwyn Groves, and key to helping us build back stronger after the pandemic.
I remember the excitement we felt in anticipation of our very first meeting when lockdown restrictions eased in December 2020.
Liverpool Street felt eerie without the hustle and bustle of commuters. We met at a café opposite the station where the only other customers were police on their break, and large crosses had been taped onto every second table to ensure everyone social distanced.
But at last – we were seeing people in person! It was such a welcome change from Zoom, and although there was no shaking of hands allowed, behind the face masks there were smiling eyes and positive enthusiasm. We'd all faced difficulties during lockdown and were able to share stories, challenges, and gauge opinion on how things would eventually open up. The whole experience underlined to me how vital networking is – not just for business, not just for career progression, but for personal confidence, and work performance too.
The hospitality sector has always attracted sociable, caring, nurturing people who enjoy meeting others. But we rarely recognised the true importance of it until our ability to have face-to-face contact was taken away. Millions of people found lockdown hard to navigate. Many suffered terribly, fatally… It impacted us all.
I remember feeling shocked at the sudden shift from working in a highly social profession, to working from home and, for a while, being on furlough. It was so isolating; we needed one another more than ever.
I pride myself on a glass-half-full outlook on life and, at first, tried hard to keep up with colleagues, friends, family, and clients on Zoom but I very quickly lost enthusiasm for it – often because there was nothing new to say, despite the quizzes, drinks, and home spa sessions!
Eventually, we just had to sit the pandemic out. But feeling like everyone was in it together helped us keep putting one foot in front of the other as we re-did our financial forecasts over and over again.
As a business we were fortunate that some restaurant clients continued through lockdown with home delivery, keeping some of our team busy. In the absence of industry events, we increased our presence on social media, to stay visible in the sector and remind people who we are and what we do. LinkedIn quickly became a critical tool; things mushroomed there during lockdown, and it's remained just as valuable since.
And although I couldn't possibly have imagined this would be the case back in March 2020, today we can even see that the pandemic has brought changes for the better. I'll always prefer in-person meetings but Zoom allows us to be agile and responsive. It gives us flexibility and is time efficient. There's greater trust in people to work from home and deliver. We had time and space to discuss and define our corporate values and create a sustainability plan. The shake-up also left us with really committed staff and, most importantly, the cleaning teams are now all paid above the London Living Wage and our clients support this.
As soon as it was legal, I organised a series of networking lunches for tables of six. The first was in the private dining room at Norma because we knew we could have the chairs well-spaced, so our guests felt comfortable. The excitement was palpable on the day and people were incredibly open, sharing the difficulties they faced. There was a wonderful sense of support for each other and support in the difficult decisions people were having to take, as everyone was in the same position. Some GMs were meeting for the first time that day and that helped us feel like we'd achieved something – connecting people – at a time when we weren't achieving much else in business!
Now that things are fully open, we continue to be active in supporting the industry through events, entertainment, fundraising and so on. Gillian and I have enjoyed rewarding careers in and around hospitality, so giving back and supporting others feels like the right thing to do. It's almost selfish not to shout about how fabulous this industry is.
And that's why we support hospitality initiatives that recognise success, create opportunities for development and support the sector – St Julian's Scholars, Hospitality Action, the Royal Academy of Culinary Arts, and others.
I firmly believe we should all try to help one another be successful. There is no need to be competitive in this regard. There are many ways to progress, and plenty of opportunities for all. When those in leadership roles are supported to be the best they can be, they, in turn, inspire the next level.
I have first-hand experience of this. Back when I joined Sky as Hotel Sales Director, two female managers who would have been my role models left in quick succession, just as I was stepping up to a leadership position. With two young babies at home, I was the family breadwinner and felt the pressure to succeed – yet, of course, I was questioning whether I could do it.
Then Debrah Dhugga, at the time managing director of Dukes London hotel (she's now COO of The Apartment Group), kindly invited me to join a local networking group. I remember turning up at the first dinner at Dukes in St James's not knowing anyone and feeling very inferior. It was full of highly accomplished and talented people – but perhaps we all felt the same about each other?
The way I got through the evening, and all the other networking events I attended where I knew no one, was to ask questions of the people I met. In turn, I would share of myself – and I found the hospitality sector to be so very engaging and loyal (they remember, too) that before long I had built up a network of great people, some of whom would go on to become great friends.
That group really helped me grow in confidence. I am often too hard on myself, but I found that by getting to know other incredible people, and being accepted by them, also helped me accept myself and grow in self-assurance. What is essentially a social interaction, builds a stronger person, which in turn assists belief in your career.
Networking blurs the line between business and social. It allows people to get to know each other, their interests, their family. We find things in common and ways to connect. It also allows us to understand the issues that people might be dealing with.
And that's why I'm inspired to organise networking events myself – because it helps us all become stronger. To be in the company of other enthusiastic people, passionate about hospitality, is strengthening and stimulating. It was key to getting us through the pandemic and it's helped us all feel that we really can build back again.
Bronwyn Groves was speaking to Amanda Afiya and Jenni Muir on International Womens Day 2022