We are always on the look out for excellent people who love hospitality as much as we do to join the ACT Clean family.
Reap the rewards of working in a business that treats its people with the respect they deserve.
Kitchen porter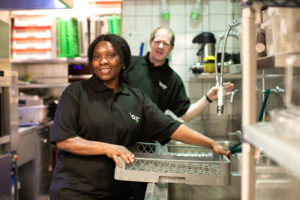 Kitchen porters are the vital ingredient of every professional kitchen. We're looking for hard working individuals that can't wait to play their pivotal role in a smooth running brigade. We train our kitchen porters to the highest standards of service, quality and health & safety. You bring the can-do attitude and we'll provide the rest. Contact us to find out more.
Night kitchen cleaner
High standards of food hygiene and health & safety in catering and food production facilities are essential and we're looking for people that fully understand that. Night kitchen cleaning is one of the toughest cleaning jobs there is. But it's also very rewarding because of the technical knowledge needed to be able to dismantle, clean and rebuild kitchen kit. If you get job satisfaction from a practical job done to the highest standards, we'd love to hear from you.
Front of house cleaner
This is a role that requires both skills and aptitude as well as discretion and good presentation. We look after the front of house cleaning of London's finest hospitality businesses, as well specialist areas such as spas, and our workers must match the meticulous attention to detail and highest standards of our client partners. Does this sound like you? Give us a call.
Housekeeper
We look for experience, good English, smart presentation and a positive attitude for our room attendants. Being thorough and efficient is also a must. Our housekeepers become key players in our client teams and so we are looking for people with the skills and personality to represent our service excellence to the highest levels. Get in touch if you've got what it takes.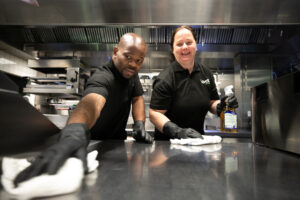 Would you like to join the ACT Clean team? Here's how you can apply:
In person
We welcome registrations at our London head office six days a week. Bring your right to work documents, National Insurance number, bank details and enthusiasm to:
ACT Clean
Vox Studios
1-45 Durham Street
London
SE11 5JH
[CAN WE EMBED A GOOGLE MAP HERE MAYBE?]
We are open for registrations at the following times:
Monday to Thursday – 8am to 4pm
Friday – 8am to 2pm
Saturday – 9am to 2pm